Costume & Fancy Dress Hire Ideas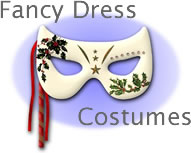 Fancy dress parties are so popular because simply everyone
loves
to dress up and be someone else for a night and thats why they are always great fun!
Whether you are going to a fancy dress party, or attending a formal function or wedding, costumes may be hired to suit the occassion and budget.
Use the guides below for costume idea's (what costume to wear) and then costume hire outlets to hire that special costume.
* Costume Ideas *

* Costume Hire *

* Costume Sales *

Online Shops - where you can buy the costume and have it delivered to your door.