How to Tie a Toga
This is a guide to the perfect Toga Party with all the ettiquette, ideas, how-to-tie a toga and toga party games.
Here'??s some advice and tips for holding a Toga Party that your guests will surely love.
Toga Party Invitations
Make invitations for the party that are designed to look like scrolls. You can do this easily by writing the invitation on long sheets of paper and gluing each end to a small wooden rod.

To make them look more authentic you could buy fittings for curtain rods from a hardware store and fit them to the ends of each wooden rod. Spray them with gold paint to make them look more extravagant.
How to make and tie a toga!
Important Advice: Don't use a bed sheet!

Contrary to popular opinion, sheets are not the best option mainly because they are more expensive than using a good quality piece of material.

Buy or find 4 or 5 yards of a good quality piece of material not necessarily white (see pics below), it takes about three feet to go around your waist, and you need to wrap it at least 1.5 times around your waist before you throw the remainder over your shoulder (either shoulder). Then bring the fabric back to the waist, and tie it up or wrap it some more or whatever. Women will (possibly) want to tie the fabric carefully to preserve modesty (or not) around the bustal region.

Fact: In ancient times they wore vest-like under-shirts underneath the toga meaning bare shoulders were a myth.

Tie a toga: MALE
Around the waist at least once
Pin it at that point
Throw the rest over one shoulder
Around the back
Pin it again at the waist.
Wear shorts underneath
Wear sandals, thongs

Tie a toga: FEMALE
Add to the basic wrap design small horizontal bands (leather, chain) accentuating waist and bust line.

Tie a toga: ACCESSORIES!
A good looking toga is one with a sword, gold chains, amulets and jewellery.

Tie a toga: HEADWEAR
Make a LAUREL using a wire coat hanger, shape it into a circle (to fit on your head) Then attach plastic (or real) leaves and wrap it around the wire hanger.

Sandals are ideal footwear for a Roman look. You can also add to the look by making a laurel head wreath out of twisted green crepe paper.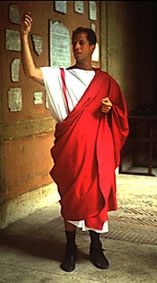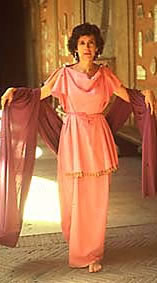 Did you miss it? Do not use a bad sheet! It won't work, it doesn't work and you will.. look stupid!
Toga Party Decorations
An ancient Roman or Greek feel would be good for this party. Try setting cushions about the floor instead of chairs. If you are using chairs give them a lavish feel by draping them in silk or decorating them with vines

Decorate the house with fake vines using twisted green crepe paper. Candles would also be ideal for the night.

Drape the furniture with red cloth for a royal Roman look. You can also use the cloth to hang by the doors and windows.

Make a golden eagle using cardboard and paint to place above the doorways.
Food Suggestions for a TOGA Party
Serve rich lavish food such as bunches of grapes on platters, or oysters on ice. A fruit platter is an easy way of offering food with an exotic feel.

Offer wine or drinks in large jugs as Ambrosia for the guests. A punch can look perfect for the night if you surround the bowl with vine leaves.

Make a cake that'??s shaped like a suckling pig, or better yet, serve an extravagant meal by hiring a spit for the day.
Toga Party Resources
How to Tie a Toga Videos
Here we have a couple of videos that show you how to tie a toga. Interestingly, both use bedsheets, but we will let you be the judge.
Readers Comments

Toga! Toga! Toga! Anyone who'??s seen Animal House has GOT to do this party!!!
Miller (Footscray Victoria)
Speaking of Togas and Animal House!
Classic Belushi wearing his toga in Animal House